The Weird Alphabet!
I have started a new series, spinning off from my other new series!
The weird alphabet! This idea has given me an artistic boundary to work within, and allows me to explore my long dormant love of RESEARCH! Thinking about letters, I also wrote a very naughty alphabet poem, but I will keep that secret for now.
The most recent of the new alphabet series is C = Cacophony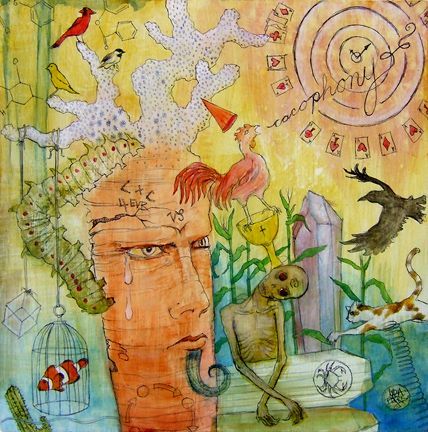 "A = Ambiguity" and "B = Blissful" as well as the rest of the new series (sans alphabetical meaning) can be seen on my website under
"Sketch-Panel Series"
_______________________
Recent Happenings and Inspirations


As its December, I will express my love of my favorite Rankin/Bass Christmas special. "The Life and Adventures of Santa Clause". Its one of the most bizarre and beautiful and somewhat pagan Rankin/Bass special, and it RARELY gets played on television. I watched the whole thing on youtube a few days ago - but alas, I checked today to show someone else and it has been removed due to copyright issues. I believe this special should be available somewhere, as it is so rare and most of the people I talk to have never heard of it! Do not be fooled by the animated version (ok, but not as hauntingly interesting) - find the CLAYMATION Rankin/Bass version. I own the movie, and the book - I just realized I have not read the book yet. Check it on IMDB. By the way, even though that is my one true favorite special, I am a fan of all rankin/bass productions (that I've seen so far) - including the wonderful "The Last Unicorn"

___
Fine art: last Thursday, when I lectured about contemporary art, I realized that I hardly own any books or magazines about 'fine art' - I mainly collect fantasy and horror illustrative art - including periods of art history usually gleamed over quickly in general art history books, if mentioned at all (symbolism, romanticism, pre-raphaelites and sentimental Victorian art, and going further back to Bosch, Bruegel, and any artist that focused on darker and fantastic themes). I am hoping to expand my art book collection now to be more inclusive. (Like I need any more books. for the past year, I have had piles on the floor because I ran out of bookshelf space.) Speaking of books, I recently picked up one of my favorite books that I had never finished previously : "Color: A natural history of the Palette" by Victoria Finlay -written as a travel journal, a woman's quest to find the meaning behind colors.

That is all for now. As usual, I am desperately available for commissions, etc.
___


Happenings:


This Friday: I will be vending some art at a club event called "Sanctuary" at the Melody Inn Reception Hall, Indianapolis, IN.
This Thursday will be the last day of my very first university teaching job. Its been a tough start, but I think I like it. If I can keep up with the grading.