(re-posted from my other online bloggish places for those of you who watch me everywhere, sorry!)
So - I'm finding new life in my art
Inspired by my friend Steven talking about his new years resolution to make ridiculous amounts of art.
I couldn't wait for January. Last night I ignored my normal evening activities of winding down after dinner by getting online and/or watching something interesting.
Instead I played music and created art until about 7:00 am and then (still awake) I read in my Clive Barker book (The Great and Secret Show) for 1/2 an hour before I felt satisfied enough to ... take a nap.
But what did I create?
First of all, I have a new medium. About a week ago, I purchased a sewing machine because of some crazy idea I have about using string in my work and making bags. I have used a sewing machine maybe twice in my life , the last one being in England (freehand stitch) help create ripped paper + art 'foliage' in an installation. I was hooked after that, but was still scared of the sewing machine. Not anymore!! I've been making embroidered patches on paint rags, and have started making bags.
SO, thats one thing I worked on during my art spree...
The other was a breakthrough in my drawing style.
There are a few things leading up to this.
People have always been interested in the way I draw in my sketchbooks. I made a few attempts at doing work inspired by my sketchbook when I had my studio at the Stutz, but I had other larger experiments I wanted to try, and I was still playing with painting on wood.
Now that I'm at home and don't really have room (or the warmth, or money) to work on large-scale work- I'm back to small.
I REALLY LOVE working on paper but have always had the dilemma of not wanting to pay for frames, plus I'm not a fan of putting my work under glass. So, I've avoided making paper art while I could, and I mainly stuck to panel and wood and the occasional stretched canvas for my 'fine art' pieces.
I also don't have my 10" x 10" seawhite of brighton sketchbook anymore, I need an outlet for my art on paper -
THUS... I decided to just start having fun on the paper I have. My acrylics are in the basement where its freaking COLD, but upstairs I got out my watercolors, sumi ink, colored ink, colored pencils, graphite, pens and had a blast!
at about 4:00 am I was awake and didn't want to stop so I kept going!!
I ended up with three 9" x 12" creations, one 5" x 7", a little graphic design piece for a friend, and two embroidered pieces from earlier in the day.
YEAH!
I am extra excited because I believe I can take this to higher ground. I really enjoy doing it and would like to start offering my services more for design work and illustration (if people want a messy splattery dreamy quality) - I don't mind taking this style into commercialism because I know where I stand with the style - usually my work is so schitzo, that as soon as I start working on a project for someone else, I want to change styles - but THIS is the kind of stuff I do anyway - I think my 'sketchbook art' has finally found a more professional and public place in my life.
Here are the 3 big pieces from that night.
Click to be taken to a larger picture at deviantart.com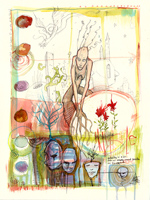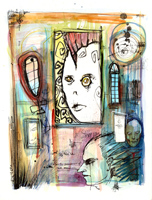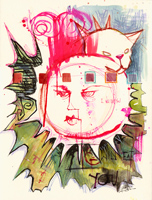 I'm going to keep trying to make art daily and see where it takes me.
Stay tuned for my occasional updates and plans for conventions in the new year!
(So far, Horrorhound Indy and Days of the Dead, also Indy!)