Today has been great.
Despite the COLD and WET outside from 2 days of rain, I finally made it to my new art studio at the Stutz building. D came along and we got there right at 6:00, the time the building closes. This was actually good, because it forced me to find out the procedures for how to enter the building after-hours. The night guard controls the garage door for car access (temporary for unloading stuff), and then I had to find the right doors with key-card access after I parked on the street. I've never used a key-card before, its new to me, kinda sci-fi.
I DO get internet - which is great in many ways - one of the things I was thinking of trying was setting up a small web cam and streaming live video while painting.
I brought some more items, arranged everything, and started painting. I worked on a large painting I had started month's before - it now looks like a rainbow that ran into a briar patch and exploded. I forgot the camera, so pictures will come later!
I also stretched canvas on some small wood blocks, and gessoed them.
This is really going to help with my SELF DRIVE.
We left around 11:00 (5 hours!)
___________________________________________
In OTHER News..... PLAY WITH YOUR FOOD!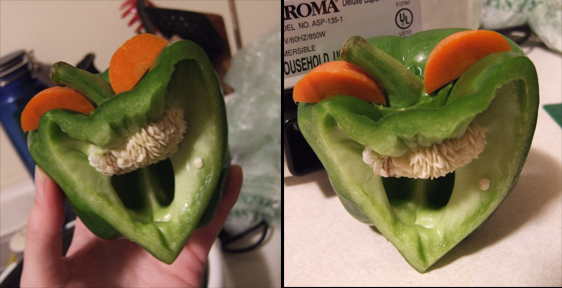 MUHAHAHAHAHAHAHAHAHAHAHAHAHA
thats all for now.