STUDIO:
Tomorrow I can get my key for the Stutz Studio building! I am very excited.
WHEN I have the studio, there will be portrait sessions. There will be strange art makings and weird art happenings. There will be creative experiments, colorful failures, and exciting successes.
AND its in walking distance to the main downtown library. *JOY!*
OILS:
I have recently revived my interest in my oil paints.
While working on the second Cthulhu-esque commission, I drifted off into that intense art state where time did not register. I painted until I was FINISHED, and realized that it was 3:30 am and I had not yet eaten dinner. I have not felt that state of art for a while, and I was so excited. I think I am ready to do some serious artwork.
Here is the outcome of that art session: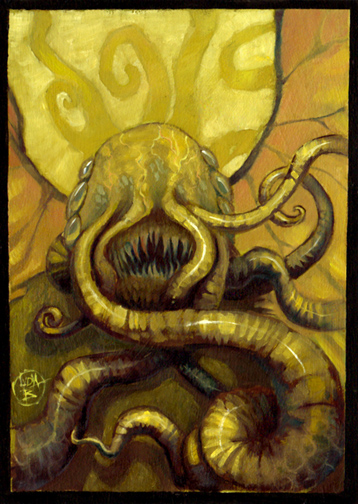 Recent EVENTS:
Yesterday was a big day for being social. First there was the 'Goth Picnic' - a different sort of social event for the goth and alternative community in Indianapolis. Finally, a chance to converse with my fellow darklings, rather than shouting at eachother in a nightclub. It was at the IMA gardens, I did NOT realize they had that much property in the garden! I shall have to return when I feel the need to escape the city and take pretty pictures. The day was chilly and the skies threatened rain with dark clouds, yet it did not rain. Perfect day for a goth picnic!
That EVENING, we attended 'vampire' themed club event (the theme was loose, but the cover was discounted if you were wearing fangs). A good night of music, sticking glow sticks in our noses, discovering a new tolerable energy drink ('Roaring Lion' or something) and of course, being social. It was good to see some out of town friends as well. :)
Friday, D and I attended a
FREAK show
at the library!
The Blue Monkey Sideshow
. A man hanging a bowling ball form his ears, someone lays on a bed of nails... I was quite impressed with the man walking, jumping, laying his hands and even his FACE (while a patron STEPPED ON HIS HEAD) all on a pile of broken GLASS. Very cool. And of course, there was Z'ja Dega and his human blockhead routine (we missed his 'through the tennis racket' act), and the ever impressive CREMBO - one of the best MC/Barkers I've ever heard. (who also does his own tricks when called upon) I need to upload some photos!
Today:
I am dedicating to grading papers. Ahhh Teaching. Maybe a bit of art later.