Greetings Bloggers!
A lot has been happening, and I've been forgetting to post here!

UPCOMING GROUP SHOW:
November 20th - STUTZ HOLIDAY EXHIBITION
About 40 different artists....!
There will also be 6" x 8" original works of art by various artists available for $100, half the proceeds will be do

nated to

Brooke's Place (www.brookesplace.org), a nonprofit organization providing grief and loss support groups and counseling for children and their families.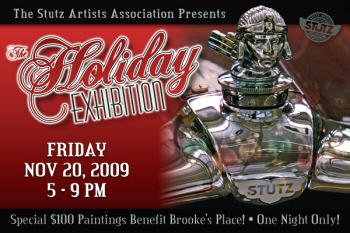 Click on the image for more information
____________________
NEW ART and EXPLORATIONS
I will be the first
to admit that I am not consistent in art. I do not stick to one thing. I explore and have fun. This quality may or may not deter me from pursuing more illustration jobs. I have been feeling especially disjointed these past few weeks, and as an artist, I'm not sure who I am anymore. I am starting to appreciate and explore abstract work.
My latest exploration involved wood blocks, plaster gauze strips and glass pieces.
I'm not sure what I think yet. These are WORKS in progress.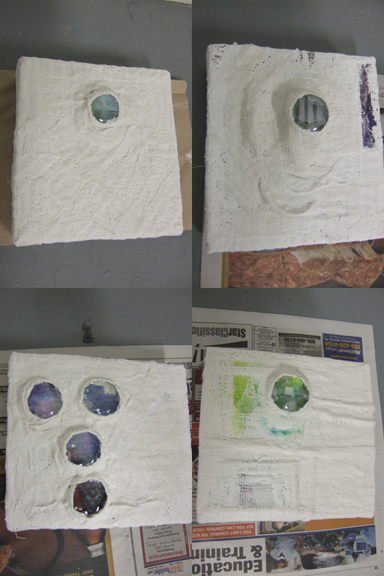 However, I finally got back to drawing strange faces a few days later. A place of comfort and interest for me. -
A few days ago, I was browsing some fantasy art, and was inspired by Mark A. Nelson
- I love everything about his work, but I was particularly interested (this time) by his color sense and cross hatching. The idea of colorful crosshatching stewed in my brain for a few days until I came up with this: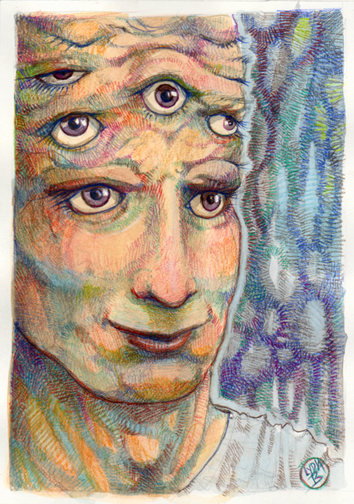 A larger image can be seen at my
deviantART
page for now.
That is all the news for now!