Pluggin along!
infrequent posts due to merely extreme busyness.
:D
I am currently on vacation in Connecticut - but still trying to work on projects while I'm here.
One of my better paying jobs in August didn't pan out due to low enrollment (teaching art appreciation at a tech college) - so, hopefully something else will come along to fill in the gaps. (especially if I want to attend the SPECTRUM LIVE convention that got announced recently! OMG) Thankfully, I now have my downtown studio in Indy, and it gives me something to look forward to coming home!
I need to take a picture of the 2 sweet studio gifts people have given me - a little work of assemblage art and an antique 'murcury' bottle. That can come later!
For now, Let me share some images from the Days of the Dead Convention
*
Here is a small drawing in my brain candy book - a photographer wanted a monster portrait of his camera.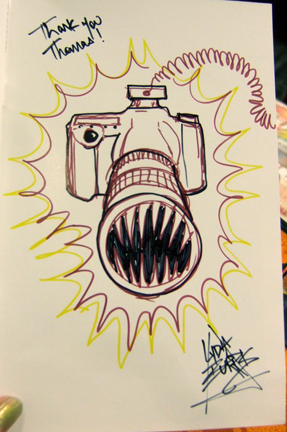 *Here is a convention commission- 9" x 12" color. I took it home that evening to finish it. watercolor and Ink. If I thought about it, I could've added white acrylic to highlight certain areas, but it came out pretty sweet I think.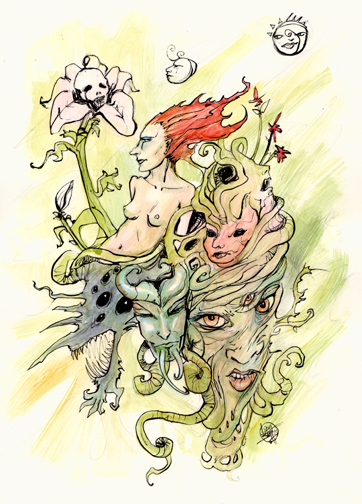 ... Some of my friends were debating what kind of salad dressing would go good with this conglomeration of organic plant matter. *chuckle*
*A sketchbook commission - someone wanted a hippo related work - so I of course drew a hippo-tree!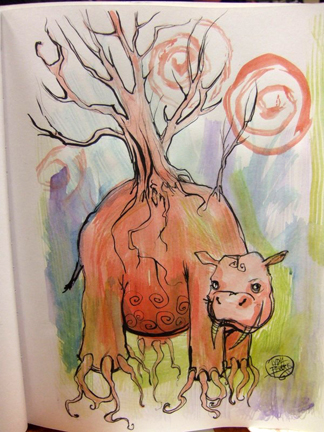 *The coolest t-shirt I saw at the Days of the Dead convention.
It reminded me of Clive Barker's Nightbreed, thematically - all these monsters coming together with different backgrounds and lives and purposes. Easy to discriminate against, but all of them are precious in some way.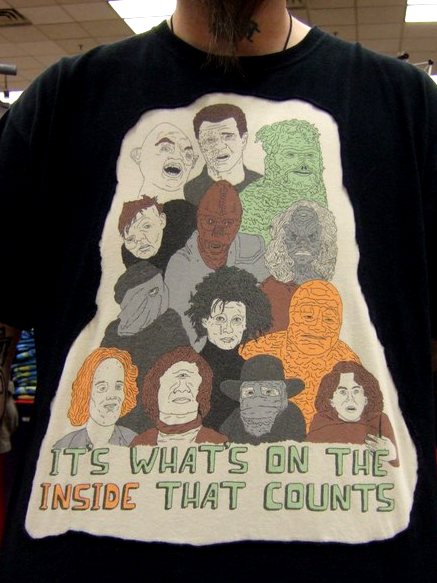 *I was able to finally present my Sammy Terry painting and print at Days of the Dead - my painting of him is on the back of the comic book. After acquiring the proper permissions, I now present the 11" x 17" limited first edition print. I have 15 of 30 (Sammy has the other 15)And they are all SIGNED!(They are selling at $50 each)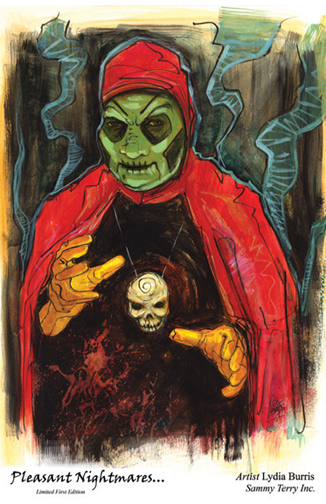 ***
And last, here is a sneak peek at part of one of my paintings for a movie project.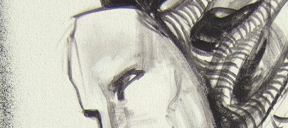 _________
Other News:
I am realizing how much I need to get more Ayreon music. :) I am very inspired by it. We listened to some on the way to Connecticut and I've spun into the beginnings of obsession - so I'm going to keep my eye open (or my ears open?) for opportunities to get some more of their music.
Thats all for now!