In preparation for the next event (Paranormal Fest Returns on Saturday, Newcastle IN) (
this is the link for more info
) , I was working on magnets. But of course, After teaching art appreciation tonight, and watching stimulating shows, I was inspired to do ART, not production work. BUT, I am sorely in need of new magnets if I want to keep offering them, so magnets it is! (I'm already plenty RESTOCKED on my buttons thanks to the new button maker!)
ANYWAY.
After I finished, I was still inspired to do art. I got distracted with the mirror, pleased with where my hair is at the moment, and decided to do yet another portrait. (what can I say, its easier to use the mirror for a quick basic reference for a face, in any expression I want.)
SO HERE is a quick self portrait.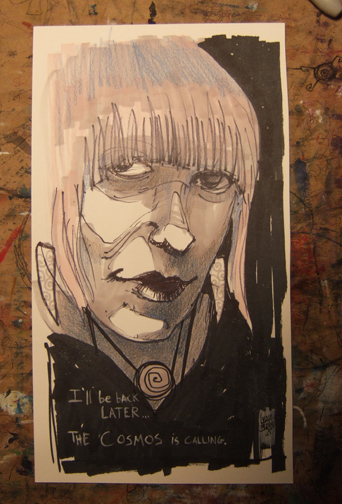 "I'll be back later, the COSMOS is calling..."
5" x 9" - bristol paper, prismacolor marker, sharpie, copic marker, colored pencil, acrylic
Done after getting distracted looking at my current hair style. I'm still amused by having short hair.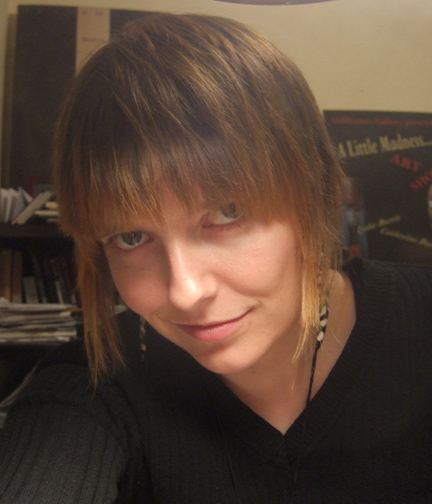 ______
And just for fun, here are pictures of the magnets.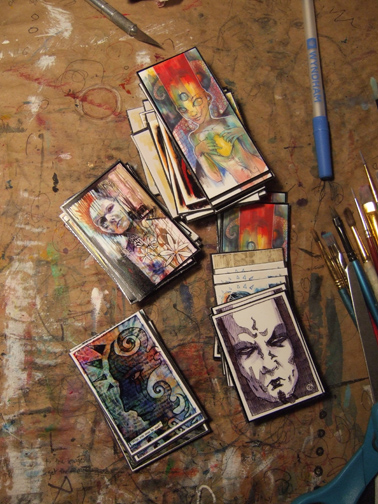 A few stacks of my art on magnets. I still need to crop the edges (when its not 5:30 am)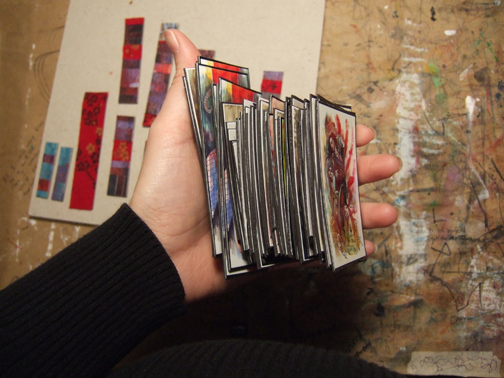 A side view of the STACK-O-MAGNETS.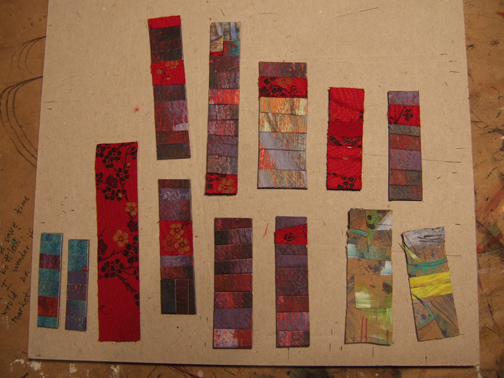 What do I do with the extra strips of magnets? Sometimes I throw them away. sometimes I make art with them. Strips of scrap art and silk cut up and assembled on the leftover sticky magnet strips.
____________________________________________
TID-BITS
Interesting thing I learned while teaching today about
-
The Witching Hour
(in the context of Christianity):
While my class was looking at a painting of the Crucifixion by Lucas Cranach the Elder,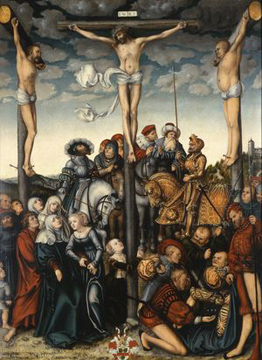 the sky in the painting was dark and was light at the bottom - one of the students was trying to debate whether it was the sun setting or the sun rising - another student mentioned that it might be when 'the sky went dark'- and that Jesus was crucified at 3:00 pm. (I looked it up - the internet tells me it was 9:00 am, but that he died at 3:00.) - Anyway. 3:00 AM is supposed to be the
Witching Hour
, as it is the opposite time to 3:00 pm.
I also looked that up and here is what wikipedia says. (
read the full article
)
"According to the American horror film The Exorcism of Emily Rose, the term can also refer to the period from midnight to 3am, when a character notes at "3am [is] the devil's hour, as opposed to 3pm, when Jesus was said to have been crucified".[6]"
Also - SEE THE MUSEUM page on the piece of art if you wish. It says nothing about the darkening sky.
....
well, it looks like I missed my date with the devil, as it is way past 3 am.
....
S
peaking of devil, I can't wait for my ringmaster edition dvd of "THE DEVIL's CARNIVAL" to arrive!
Apparently there is a picture of my painting in the special features, when they feature fan stuff!
See my painting of the Devil, Broken Doll, and The Gatekeeper: HERE - where they shared it on their facebook page.