This is what I want.
MORE ART, less internet.
MORE real EXPERIENCE, less computer.
MORE PIZZA, less ...I donno. I just like pizza.
Anyway, amidst the swirling mess that is my brain and projects and schedule right now, I am actually getting some things done.
Tonight I worked on a commission. An exciting project I cannot really talk about yet, but I can say its an underwater scene.
I also finished 2 more images in the 13 series. 7.25" x 7.25" acrylic on wood.
both currently available if interested.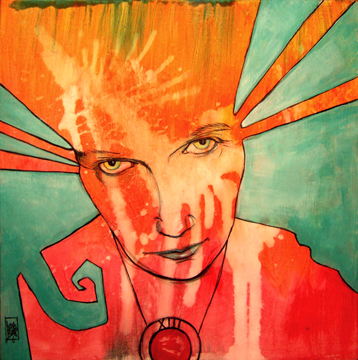 Ok, after finishing this, and coming up with a title, "Keeper 13" I realized this image is yet another throwback to my childhood. Who remembers Mrs. Brisby - who wore the amulet that imbued its wearer with the necessary magical powers when they showed extreme courage? Yeah. This image kinda reminds me of that. I REALLY need to see that movie again. That's right... the Secret of NIMN. Full of pain, sorrow and humor. And that intense moment with Mrs Brisby activates the amulet amidst the political social chaos of the rats... Light bursts from her being, she becomes like a goddess and saves her family by using all her energy... thus blowing the minds of the rats. I think I played and replayed that scene so many times.
Actually,
here is a You tube video
- someone took clips from the movie and put it to the song "Animal I have Become". Pretty Nifty. And it includes a bit of the goddess like Brisby at the end.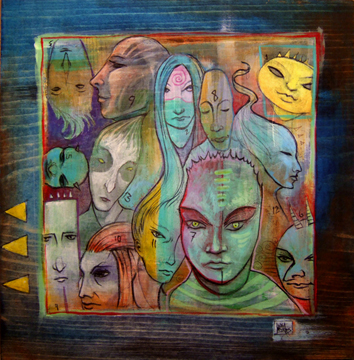 "Thirteen Witnesses"
there is a number by each character.
This was was just fun. No hidden realizations behind this one yet.
________________
mom
Thus begins the organization of my mothers art supplies. May her soul rest and not haunt me for throwing away useless tubes of paint.
This weekend I learned that my mother never threw away old tubes of paint. She kept her paints in a 3 bin system (on a rolling card with 4 shelves.) The top bin held all the mostly usable and recently bought paints. The old paints would merely be designated to the lower bins... there were some in the bottom that included logos I've never seen before. (I couldn't even find internet images, but I kept a few so I'll take pics next time I'm there) I also organized most of her brushes - I believe the same theory also applies here, but I can understand. I can't throw away old brushes either - they become scumbling brushes, and when that fails, I stick them in plant pots.
________________
I am business woman
I am proud. I did my own business taxes, deductions, etc. Actually ended up in the positive. Yay! Next year however, I have a lead for a good accountant. It might save me some stress points.
I also made some steps to insure even more art business soon.
I want to vend at MORE events.
________________
More doodles in the sketchbook.