I've been doing lots of work lately, various projects and styles, and generally kickin it into high(er) gear.
Last first Friday got me out (finally) to see some (gasp!) ART!
First stop was William Denton Ray's (Billy Ray's, WDR's, Whimsical Funk's) studio for a pre-planned trade. I love his work, and have aquired some pieces through trade and purchase (the largest piece I have from the Art vs. Art contest, I could not allow his piece to be destroyed, so I bid on it to save it!)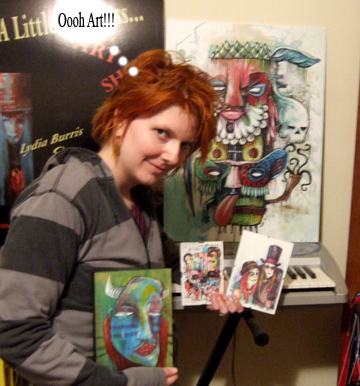 I have 4 pieces so far! Less blurry photo another time!
Check out WDR's work at his Etsy shop!
Anyway, needless to say, I was inspired by the
COPIOUS
amounts of art occupying EVERY crevice, and his seemingly endless drive to create new works. AND, his ability to stick with a series for a while.
I tend to get bout 3 or 4 pieces into a style before I switch gears and do something else.
So, this '13' series I started, I'm going to try to at least do 15. (or maybe at least ... 13? *grin*)
Here are the panels I have so far. They are all related to the number 13.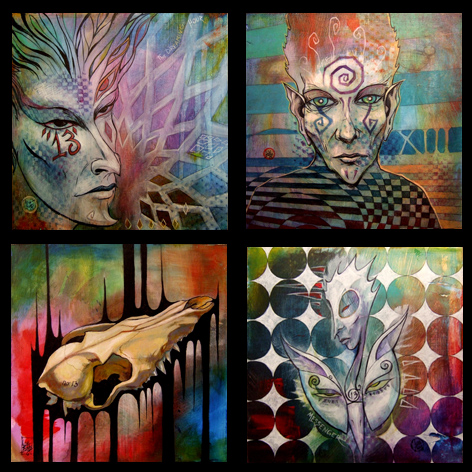 I also have a few works on paper, first turned into a print, the second is still available.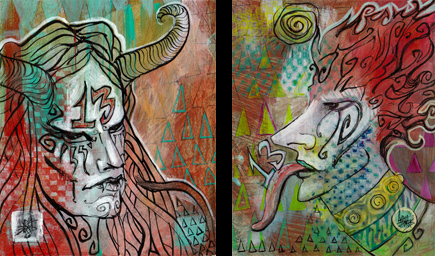 __________________________________
horror stuff
Another project I have going is this whole horror convention business.
I have great fun at these events, generally make a profit, but I want to kick things into higher gear.
I'm going to start making some changes to my setup next time I go to an event (Motor City Nightmares, coming in 2 weekends, Novi, Michigan). I'll have less big originals, more visible prints, and more work specific to the horror subject and genre. This has inspired another spurt in small horror artworks.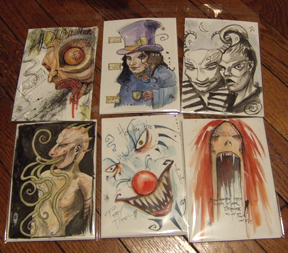 ...
You see why I feel schizophrenic?
My styles hop around like... _________
(please insert your own colorful metaphor here for something that changes way too often)
______.
_________________________________
Art Business
On the plus side, I visited my bank today and made some business arrangements that will allow me to come to more events, and would help with a studio space, should an 'affordable' one open. I've got my eye on the HarrisonCenter here in Indy. Ideally.
________________________________
Recent Inspirations
It must be a street art raw creation automatism kind of week. (perhaps in the coming weeks I'll get more automatic)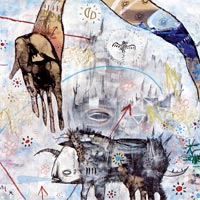 Jesse Reno
and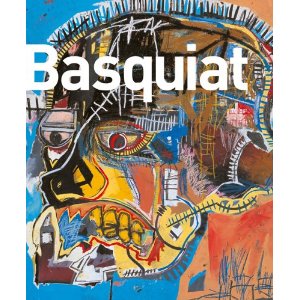 Basquiat