Yesterday was a busy art day.
I had a casual open studio at the Stutz from 1:00 - 5:00pm, but at 5, there was an official 'open studio' show called "One Flight Up" for our section of the Stutz building - I am getting much better at the meeting and greeting people part of this business. Many awesome people showed up, we shared ideas and updates and potential projects in the works. (Thank you to everyone that showed up!)
I sold a few magnets, and a small work. (Thank goodness for internet connection in my studio and paypal, and friends who like my stuff.)
During the day I also got some advice about what other kinds of art to explore. I know the kind of work I do has a very limited audience. If I want my 'art' to be my career, I have to be willing to expand my practice, and create other bodies of work that are more... 'appealing' . This doesn't mean I'm going to CHANGE myself or my work, or that my work will become boring, standard, etc. But, I'm willing to explore parts of my art that may be somewhat safer for general consumption. I also like doing 'safe' work - such as landscapes, still lives, etc - and I've been wanting to do some of these things anyway as practice. Perhaps even exploring a more abstract side to myself, or doing surreal work involving trees that is more... LIGHT-HEARTED, rather than dark, creepy and disturbing.
Yes, I often question who I am - I do not have a specific direction in my work - but I do have obsession, drive and excitement about the act of creating art.
Anyway, I got a chance to explore abstract last night. At 9:00 pm, I packed up some supplies from the studio, and headed over to a restaurant in town called the Taste of Tango - upstairs is their lounge, and last night it was being used for a techno event. I had been invited to do a live painting! This is my first experience doing an official 'live' painting - to loud rhythmic music played by DJs. I stayed till 2:00. I think I survived the day on a can of rockstar and parmesan goldfish crackers.
I was using a 2.5' x 2.5' canvas (30" x 30"), acrylics, brushes and rags. I used my french easel to hold it. Dave was there too. The atmosphere was excellent - not too crowded, not too wild - just a place to get into the GROOVE. The lights were dim, I couldn't quite tell what my colors were doing, but I lost myself in the music - I got carried away on the sounds, and I let my brushes release my dreams and emotions.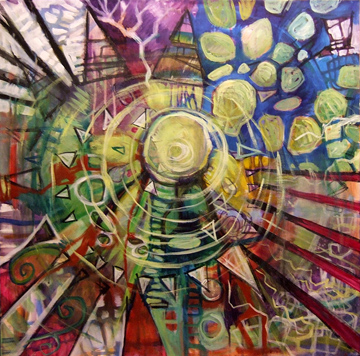 "Alpha Romeo Tango"
Hopefully I will be doing more live painting soon.
I plan on visiting more events with my easel in tow... invitation or not, its time to paint. (I also need more paints and surfaces on which to paint... time to sell my soul for art supplies)
I really need to start creating a larger body of work (of everything) for the Stutz open house in April. I did 2 small abstract/tree mixed media works tonight (5" x 7")
And I keep questioning myself. Who am I? Does this question matter? Am I betraying myself to do Non-dark and creepy work? Inner dialogue can be quite confusing and exhausting. Time for bed.
_____________
INSPIRATIONS
I cannot forget to at least briefly mention - I have rediscovered an old childhood movie I had not thought about in ages.
I saw an actor on tv that made me think of this movie - I was sent on an internet search for hours trying to find said movie - turns out that none of the actors I thought were in it actually were (making it harder to find) and that I was combining said movie with its own sequel. These are "Mr. Boogedy" and "Bride of Boogedy!" During the daytime open studio, I finished watching these on youtube. What a blast!
Also inspired by a lot of other internet videos recently. Time lapse mushroom growth, time lapse creation of a group painting, and many artists. Last week it was the Northern Renaissance artists. Gotta love teaching art history!