So maybe the ~daily~ update of my daily self drive isn't needed. so long as I try to make things daily.
Here's another ACEO -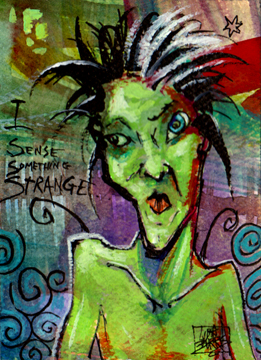 "I Sense Something Strange"

2.5" x 3.5" on watercolor paper
mixed media
. Available for $9.
I did the program for the Indy Magic Monthly - postponed until next week due to the crazy weather. Here is the inside. To see the outside, check out the event! 2nd Tuesday, doors at 7! Theatre on the Square, Indianapolis.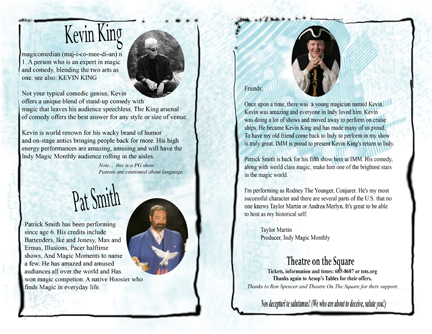 My graphic design skills are definitely their own brand. I'm learning all this on my own.
Also, I've been given permission to post 2 of my recent commissions!
First is my version of The Magician from the Tarot.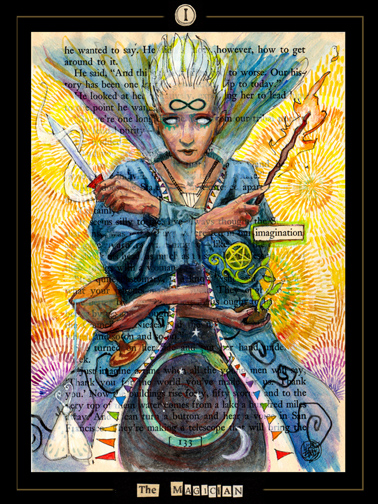 5" x 7" plus the border. mixed media on book page. Read more about the symbolism in depth
Here
.
Next is more magic related work with a Magician Portrait - of Corbett Troyer, a local magician! Very excellent slight of hand he has.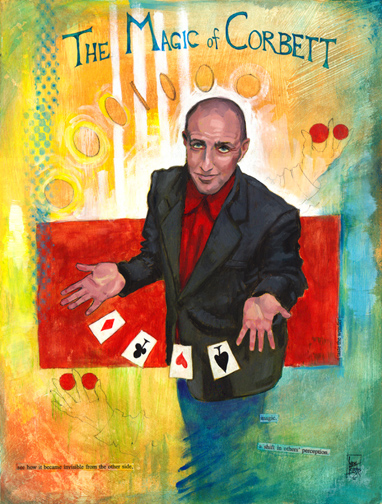 9" x 12" on 300 lb hotpress paper.
Acrylic background and oil figure.
The best progress I made was on Feb. 1st, working on the ~comic thing~ that I'm not sharing much of. I drew most of one page and colored it, and scanned it in. Now I have to compose the images together with extra digital embellishes to finish one of the pages. This is so interesting because despite my best efforts, I'm having trouble sticking with one style for it - which may turn out to be very interesting. Ah well, we learn by doing!
Here's a snippit.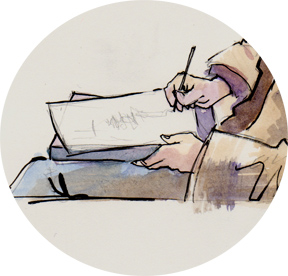 INSPIRATIONS
- I finished watching the Fountain. Earlier I had also watched most of a documentary on the "Chapel of Sacred Mirrors" with art by (mostly) Alex Grey. Very interesting visual correlations between the two things I watched. As I finished watching the fountain, I kept thinking of the art of Alex Grey - especially the more spiritual parts.
here's a quick example!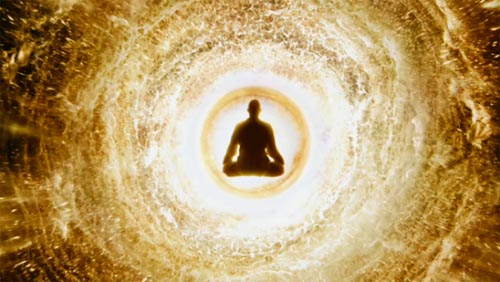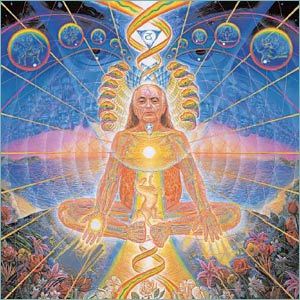 - After watching "Dark Floors" (The Lordi Movie) I'm almost tempted to do some Lordi fan art.
(check out
LORDI
!)