The past 2 days have been quite productive, and I am quite pooped!
Lets start with the art I did today.
There is a "Haunted House" show coming up at the Hive Gallery in Los Angeles CA in October. I got this done today and will be sending it there.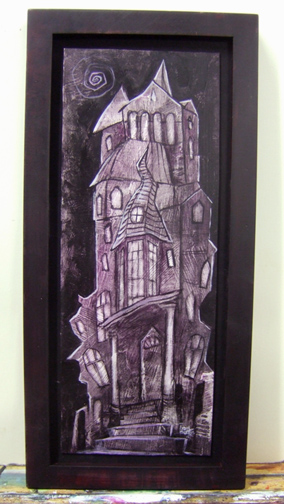 6.5" x 14" framed. Acrylic on 300lb hotpress paper,
(I'm also discovering the joys of used frames... finding odd long manipulatable used frames for a good price solves my frame-budget problem. At least for now.)
What else did I do today ~ Wrote a draft for a grant I am applying for, and installed new furniture into the studio. First was one of 2 very HEAVY large flat files. Thanks to dad for bringing it today after we got it ready to travel yesterday. I also now own dad's old pharmacy cabinet. Antique and interesting piece! It is upsidedown because its easier to display that way. And the cabinets still open fine. The cabinets are on a track that allows you to pull it out of the unit, and sideways without it falling over. I foresee interesting storage methods!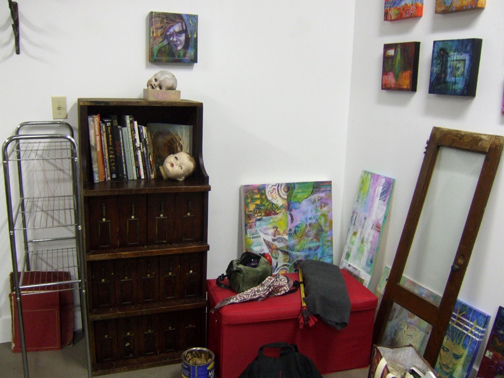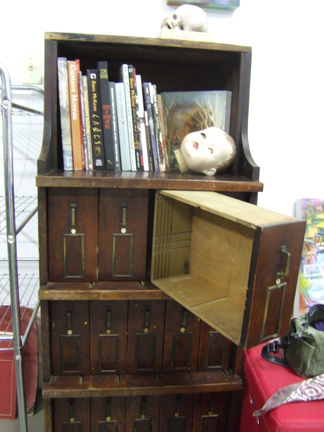 OK, onto YESTERDAY and the art!
I attended the T.C. Steel great outdoor art contest. I decided to do mixed media.
One of the first pieces I've done at T.C. Steele that I'm actually very satisfied with.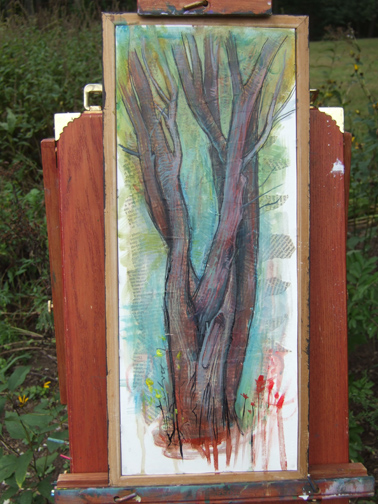 I'm not sure how long, perhaps around 17".
book page collage in the background to add texture, acrylic for color, and sumi ink for definition.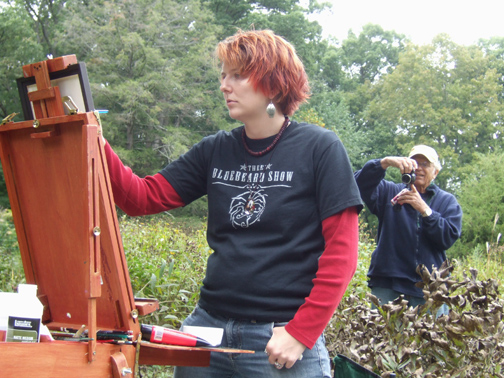 Me painting. Dad taking a pic. Dave took a pic of dad taking a pic of me painting.
INSPIRATION!
For musical entertainment, Celtica played. I was FASCINATED because they had a field organ that I almost drooled on (I can see me playing this...) And a HURDY GURDY!!! I don't think I had seen heard one in person before!!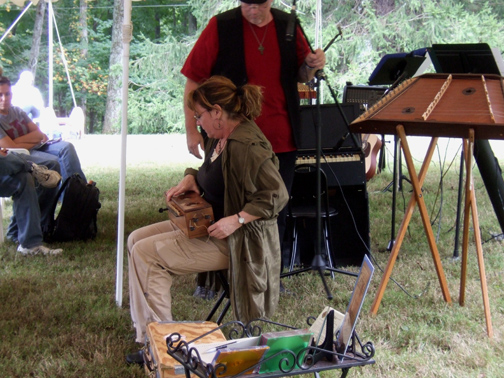 PREVIOUS WORKS/commission related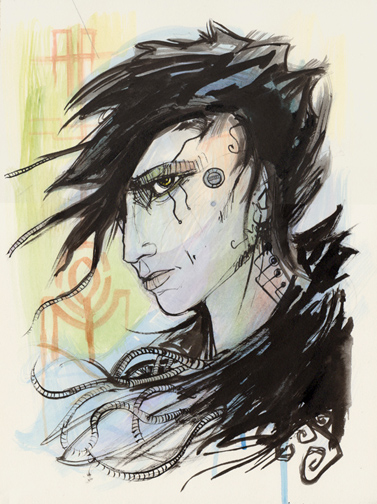 9" x 12" watercolor and acrylic - done as part of a commission toward a CD Cover - the real image is a remix of this and a few other pieces, will post when It is ready to post.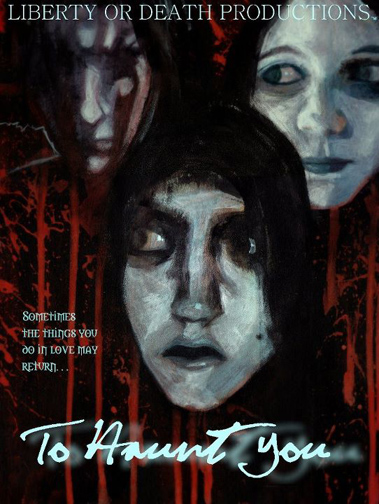 And a movie cover "To Haunt You" by Liberty or Death Productions. :)
Original 11" x 14" acrylic on bristol paper.