First, some RAMBLES on RANDOM Updates.
Goodness!
I have one depressing day where a demon of idleness and frustration farts in my ear for several hours and the next day is a train-ride of productivity. WOO! I'll take it I guess.
Things are both picking up and slowing down - I missed the opportunity to get into an event I was sorta hoping to do (Lexington Scarefest), but was hesitant as I need to juggle which events I MUST do (the bohemian $ juggle, I'm sure most of you are familiar with the act?) Anyway... Yesterday must have given me an extra hour or 2 in the day to make up for wasted time the day before. Self drive *YAY!! SCREAM, its the MAGIC WORD!* kicked in and stuff happened! Art was done, errands were run, frames were found and manipulated, people contacted, information found out, etc etc.
I am currently waiting on word from the HORRORHOUND staff on whether the event is already sold out or not. If room is available, I will be at the next event in Cincinnati. *crosses fingers* ... NEED MORE CONVENTION. Speaking of which,,, I got my square device in the mail... so I can take credit card payments at my next event... (so long as there is network) I can't wait to try it out!
MOVIES:
(just gotta share) I just watched 'Sling Blade' today. Now I know what my bf is talking about when he asks in a strange voice for some french fried potaters... mmm hmmm. (lol) Though seriously, it was a great movie... and I can't stop thinking about it.
I also watched 'The Man with 2 Brains' a few days ago with Steve Martin. HA! fun little movie. The drunk driving test scene keeps playing in my head ~ and I keep singing the song 'If you like-a me and I like-a you and we like-a both the same...' etc etc. :) :)
ok, ON WITH THE ART!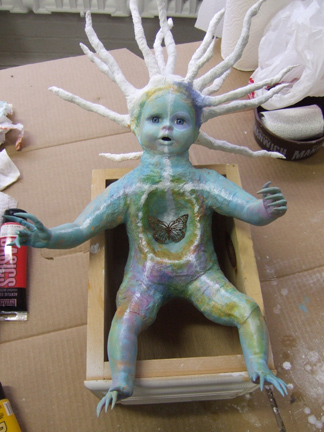 MY BABY!!
3D manipulated babydoll in progress! What is up with my colors lately?
I'm thinking... gold hair. OR whatever it is emanating from her head. Rays of creative inspiration it is!
I also started a 3D hand for a commission, perhaps I'll share photos with that later.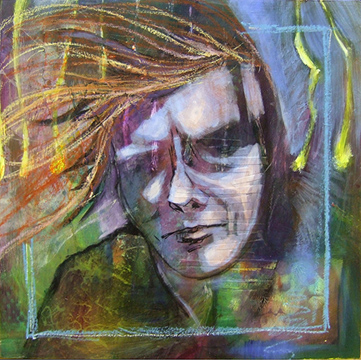 "Wind Blown Memories"
10" x 10" painting on panel ~ acrylic, collage and oil pastel. available.

Sumi ink on Yupo paper - experimenting with a new technique.
Now framed, and available.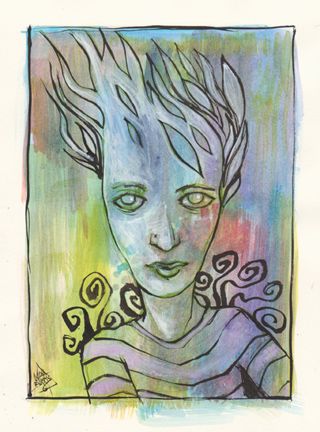 A ~nice~ little 5" x 7". "Curiosity". available $25.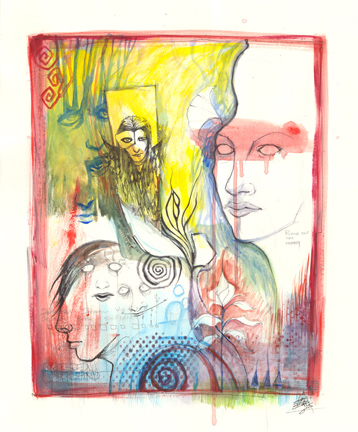 A strange compilation of line, dreams and colors. 16" x 20"
"These stories are not yet Written" ~ available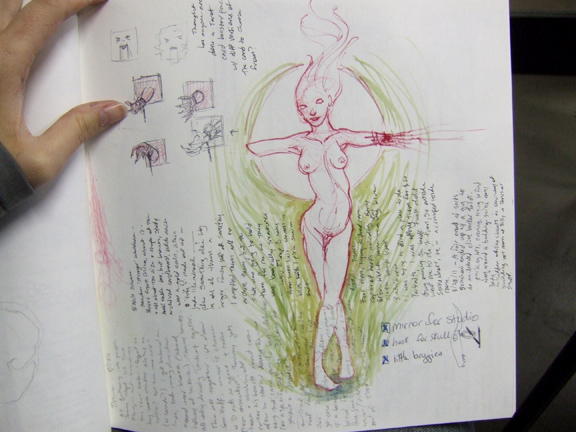 In the sketchbook.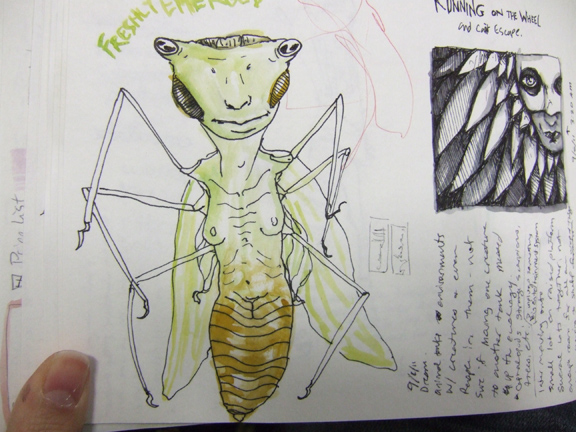 in the sketchbook. Inspired after finding a freshly emerged cicada.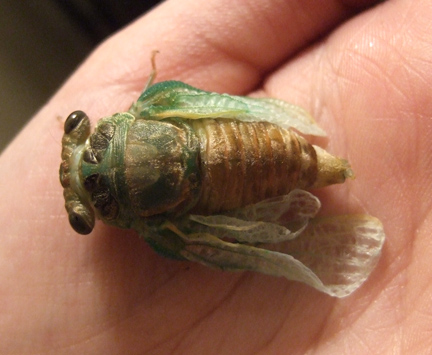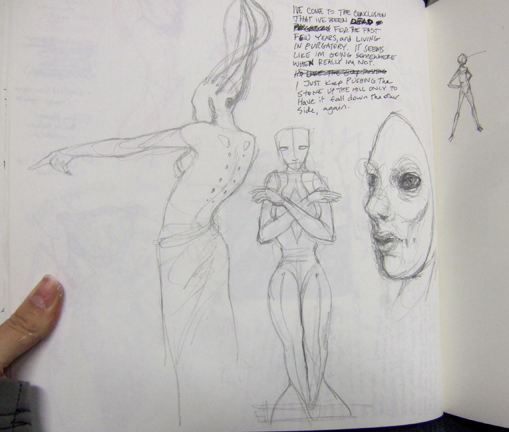 More sketches. Ideas pertaining a cd cover commission.
OK internet, I bid thee farewell. I need to sleep SOME... I Get up VERY early tomorrow to
paint at the T.C. Steele paint out! Its my once or twice a year opportunity to attempt and possibly reject
traditional subject matter, but I do enjoy it however, and I like to paint from life when I get a chance.
I can't promise my imagery will STAY in the realm of completely from life, but hey, I'm here because I'm me right? I wonder if there will be slight controversy again. ....
(ok, quick story time - I won first in my category one year, but the image turned out to be mainly swirls and bright colors, inspired by the trees I was painting. Very non traditional, but the event is mostly traditional - so there was some apparent controversy with the judges. HOWEVER, earlier while I was painting it I had given up hope of competing, and frustrated with my image, I merely resorted to having fun with color experimentation and swirly shapes. So funny I won first prize. )
FIN.
*post FIN... if I went back to daily posting, I'd probably have less to post about* or not... ? the eternal query: to share or not to share (all the time)? ... that is the question.