Day Five, Stayin Alive.
The day started out pretty flat.
The Struggles
I woke up too late, felt sleepy, and was wading through unfound feelings of doubt and slight depression. This is just an artist's lot. Its gonna happen. Thankfully I'm able to push through it eventually. D suggested I finally buy the big fish game I've been drooling over for days. And we finished watching season 3 of Sliders on Netflix. Such horrible scripts allowed me to laugh and get back into the swing of things.
First creative act: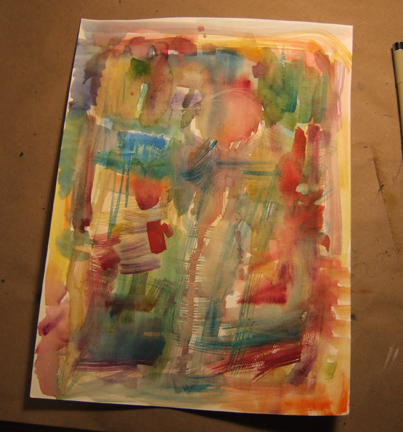 The art I started with isn't anything finished. Its more like using my tools to make more tools. I just went crazy with colors on a piece of watercolor paper. I will use this in several ways. I will scan it in for digital textures to be used on other things, then I will either create something out of it, or cut it up and create several things out of it. Perhaps serve as background for some more ACEO works (2.5" x 3.5" artist trading cards) Its always good to do something mindless like this when I'm not feeling that creative.
Next I worked on a collaboration project. Something... narrative... graphic novelesque in the works. No details until it gets somewhere but here are some visual snippits.
A drawing of a building I did on yupo paper last year (aka, sometime last week) - today I added watercolors and re-drew over the pencil in ink. (005 micron pen thats wearing down).