My wacky schedule had me wake up at around noon, and I didn't do ANY art until 2:00 am.
I am now writing this at 5:21am.
I am surprised how much happened in that time span.
Yesterday I concentrated so hard on the master copies.
I think today I needed to just loosen up and create things purely from my imagination.
Automatism is the best way to get started for me when I'm feeling uninspired, and I really like how things turned out.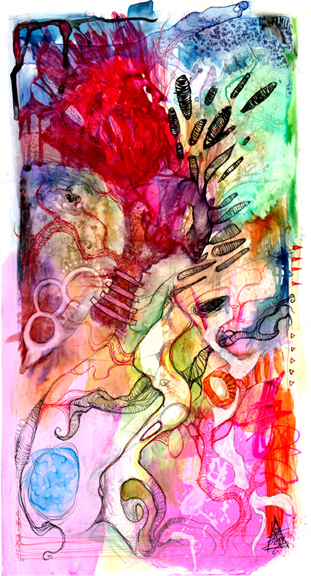 "Chaos Bliss"


6" x 11" on Yupo. Available for $75.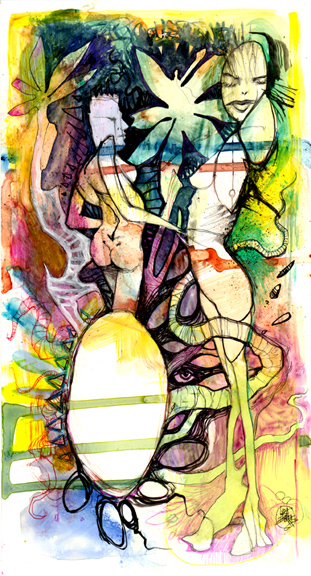 "Paradise Dream Women"


6" x 11" on Yupo. Available for $65.
While I was working on the first piece, I also did a small ACEO / artist trading card.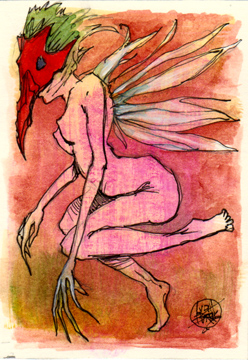 2.5" x 3.5" ACEO (artist trading card) on bristol. Available for $9.
A Word on YUPO
I LOVE yupo. It is the SMOOTHEST surface I have ever worked on, and yet it seems to work with everything I throw at it so far and it DOES NOT WARP. It is a little more expensive than regular paper (bristol for example) but it is COMPLETELY worth it, and I think I'm hooked. And well, its not 'paper' anyway, its plastic. (but fancy plastic! and apparently it won't yellow.) I have yet to try oils, but who knows! Perhaps I'll have to try it out soon. so far I have tried various inks, watercolors, bic pen, colored pencils and acrylic.
Random Art Question of the Day:
Have you tried painting with something other than your dominant hand?
how about your feet?
I have even gone so far as to draw with my belly. (I taped a pencil to my belly, sticking the end in my belly button... it was a hoot.)