After attending work at 8 am only to realize that my work starts NEXT WEEK, I had some extra time. So, when I came home I started looking at a library book for the
Chelsea Awards
(fantasy art) -But someone must have laced my book with a sedative, because I passed out for a few hours. So much for an early start to my day!
Next, I watched my boyfriend be tortured by the dentist. While I was there I did some sketchbook drawings. (These are for "
The Sketchbook Project
" - when I finish it in a few days, it will be sent off to be at a Brooklyn Sketchbook Library - Interesting idea, more opinions on it later)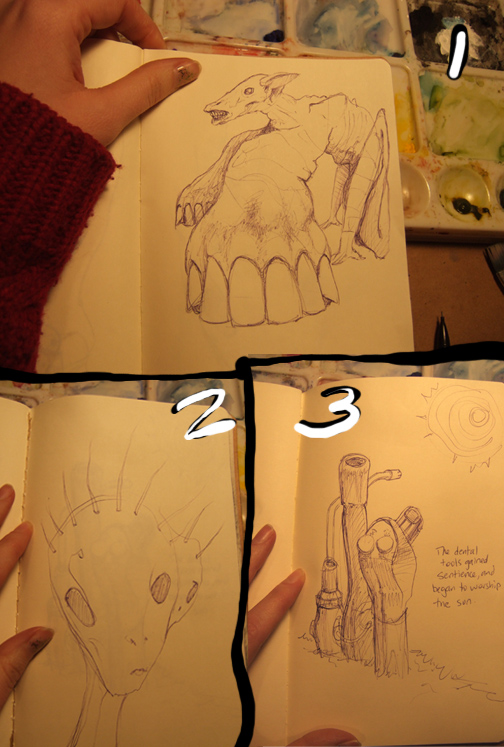 (The text on the 3rd image says "The dental tools gained sentience and began to worship the sun". Also you can see the inspiration of teeth on the first image)
Next on the agenda (after some more 'inspiration' from a hidden object game from 'big fish games') I did the program design for Taylor Martin's
"Indy Magic Monthly"
This is the front and back page (front page on the right) - I also did the inside and an insert. If you want to see the rest, you'll have to come to the show! Every first Tuesday at Theatre on the Square - Indianapolis, IN. Check the website link for more info. Doors at 7:00. Show up at 6:30 for extra stuff in the lobby!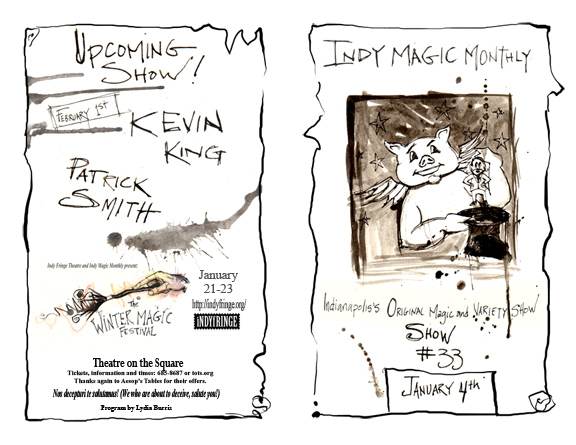 ---
I stayed up even later, and did one last minute sketch with color in the book: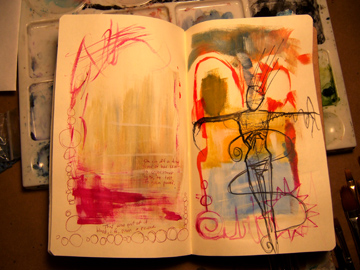 The text in red pen on the left side of the page - something that just popped into my head. "She cut off a tiny sliver of her skin, to experiment with, to test, to gain power." "That was part of it. Blood, life, pain, + power." Wonder if I've been reading too much Clive Barker lately. heh. That mixed with the predetermined theme sent to me for this book 'Science project gone wrong'.
_________________
Thank you to everyone who left comments and/or critiques on the "G / GRIM" drawing!