(posted in retrospective, as I did not want to post it at 5:00 am!)
For the first day of my epic art year, I decided to solidify my "G" drawing.
I have been working on an ambitious "Bizarre" alphabet series, all on 7.25" x 7.25
blocks ofwood - each piece gets more and more elaborate - up to and over about 60
potentialthings in the latest pieces - There is a lot of planning - I had created about
3 listsand about 3 drawings corrosponding to the letter I was working on. G has been
themost frustrating so far, because there is so MUCH I wanted to do and I couldn't
decide on a basic layout.
This is the first time I've decided to make the preliminary drawing digitally - by
scanning in some of my drawings so far and using stock images to get things in
place before I draw them. Normally I wouldn't show this, but I'm interested in expressing
behind the scenes here.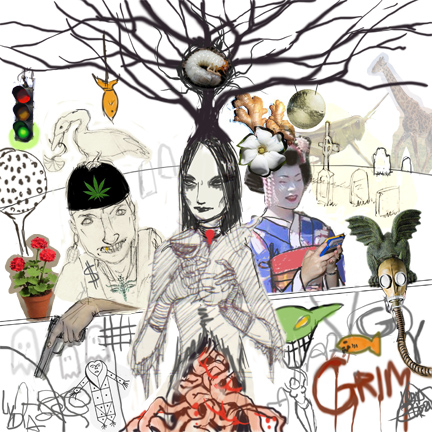 I worked about 6 hours on this. It doesn't look like it (most of the time was spent
finding images and placing them), but at almost hour 3, it got deleted on accident,
and I had forgotten to save. ACK!
Then I did the drawing in pencil on gessoed wood. No tracing, no transfers, just eye to brain to hand to pencil.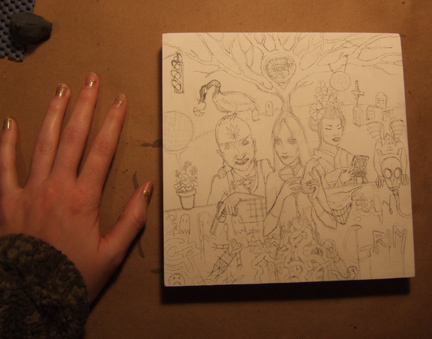 After today, I will go over the pencil with bic pen, and then color with acrylics.
----
Insirations for this stems from my childhood interests in artists who tamed the
alphabet in their own artistic way - such as Edward Gorey and especially Mike
Wilks's "Ultimate Alphabet" - of which I *think* I have the
book
but if not, I
definiely have the
game "Scrutineyes".
(unfortunately, no good pics here)
_______
Lastly -
-Pay attention to the world around you:
Learn to recognize those things you don't see every day.
Record it in someway so you can remember. Otherwise,
your brain might eat the experience. It's exhausting trying to
recall little morsels of joy if you have a memory eating brain like I do.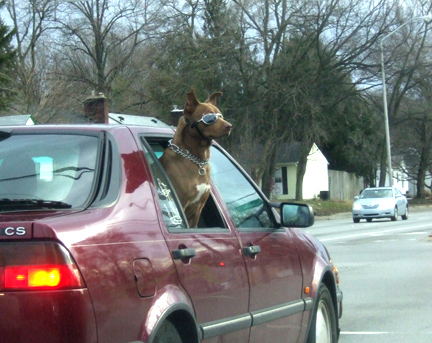 (snapshot from an errand earlier)
__________
Um... One last thing. some last minute inspiration.
The last song I was listening to at 4:50 am on my last.fm player was a Paradise Lost song from the 'Draconian Times' album.
I noticed the album cover art and had to find the artist.
The artist is Holly Warburton. Her website is in construction, but a little google image search will show a few more samples.
That is all. I don't think tomorrow will be as full!
_________
Dont hesitate to comment, make suggestions, requests, and/or recommendations!