Again, the first have of the day was full of ZZzzzzzs and snow. Barometric pressure
knockin me down? daytime = not the right time? Either way, I didn't get creative till
NIGHT.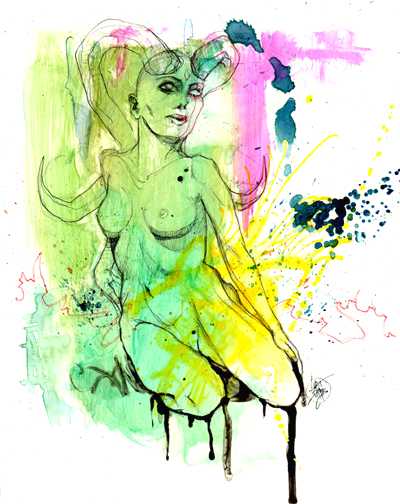 New mixed media work on Yupo. 8" x 10"
available for $75.
the reference used is from my favorite stock/model artist "Voivodess" on deviantArt.
I scumbled acrylic on the page, drew the figure in pencil, added splatters and drips and redrew the figure with big pen. I wiped away the area I was unhappy with (side of face), redrew it in red bic pen and now she looks even more otherworldly / shifting in different realities.
The other work I did today was commission related. I am doing a magician portrait.
Using photo references, I came up with a drawing, and then scanned it in to move
the elements around to come up with a more balanced and dynamic image. I did
some digital coloring to get a feel for the real colors I will use in paint. It was after
doing this drawing that I felt warmed up for the yupo piece you see above.
When I finish the portrait, I will post it with work-in-progress images with
permission of the buyer.
In the meantime, here is a snippit!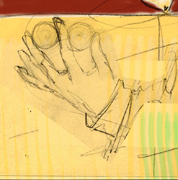 ____________
INSPIRATIONS of TODAY:
-minesweeper
-The Time Machine (older movie)
-Pickles and amaretto.
- Sliders (watching season 4, even though I told myself to stop after the last
horrible episodes from season 3. The writing has improved despite the loss of 2
great characters)